Jeep Excursions in Benidorm and the entire Costa Blanca
Welcome to Marco Polo Expeditions, the Best Jeep Excursion Company in Benidorm and the whole Costa Blanca!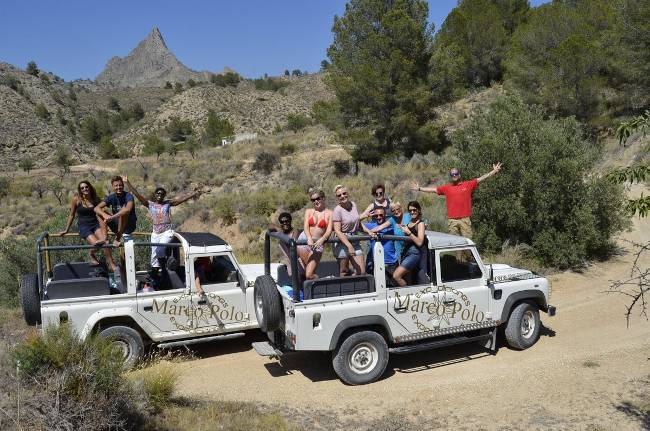 Are you ready to experience unforgettable adventures while exploring the breathtaking landscapes and hidden treasures this beautiful region has to offer? At Marco Polo Expeditions, we take pride in being leaders in the adventure tourism industry, and our Jeep Safari excursions are the most thrilling and authentic way to discover the most fascinating corners of Benidorm and its surroundings.
What Sets Us Apart?
Unparalleled Experience: Our company boasts a team of highly trained and knowledgeable local guides who will take you through exclusive and off-the-beaten-path routes away from conventional tourist circuits. Thanks to their experience, you'll discover secret spots and dazzling landscapes that will leave an indelible mark on your memories.
Premium Jeep Fleet: To ensure your comfort and safety during the journey, we have a fleet of modern and well-equipped Jeeps. Our vehicles are designed to adapt to the most challenging terrains, allowing you to explore remote and hard-to-reach areas with total confidence.
Diversity of Excursions: We understand that each traveler is unique, so we offer a wide variety of Jeep excursions to cater to all tastes and preferences. From coastal routes with breathtaking sea views to mountain expeditions and natural parks, you'll find the perfect adventure for you here!
Connection with Nature and Local Culture: At Marco Polo Expeditions, we care about preserving the natural environment and respecting the local culture. During our excursions, you'll have the opportunity to immerse yourself in the rich history and traditions of the Costa Blanca while enjoying the beauty of its flora and fauna.
Personalized Attention: Our commitment is to provide you with an exceptional experience from the moment you contact us until the end of your adventure. Our team will be delighted to answer your questions, tailor the itinerary to your preferences, and ensure that every detail is taken care of to make your dream trip come true.
Don't waste any more time and join the exciting journey with Marco Polo Expeditions. We invite you to book your Jeep Safari adventure in Benidorm and the Costa Blanca and discover why we are the preferred choice of adventurous travelers from all over the world.